A Brief History of Trinity Lutheran Church
Drawing of the Original 1769 Log Church
Trinity Lutheran Church is a congregation of the Evangelical Lutheran Church in America, Allegheny Synod. The church was formally organized in 1769, when the Lutheran and German Reformed congregations were granted permission to raise funds to build a small log church. It was located on West John Street where the current St. John's United Church of Christ now stands. For approximately fifty years, the people worshiped in this humble building with a dirt floor, heated by an open fireplace, and lighted by candles or sperm oil lamps. The congregation was served by circuit riding pastors when they were available. A section of a beam and a weather vane from the log church were salvaged, and today they are visible above the door leading into Trinity Hall from the educational wing of our church. These remnants hearken back to those days and remind us of our humble beginnings.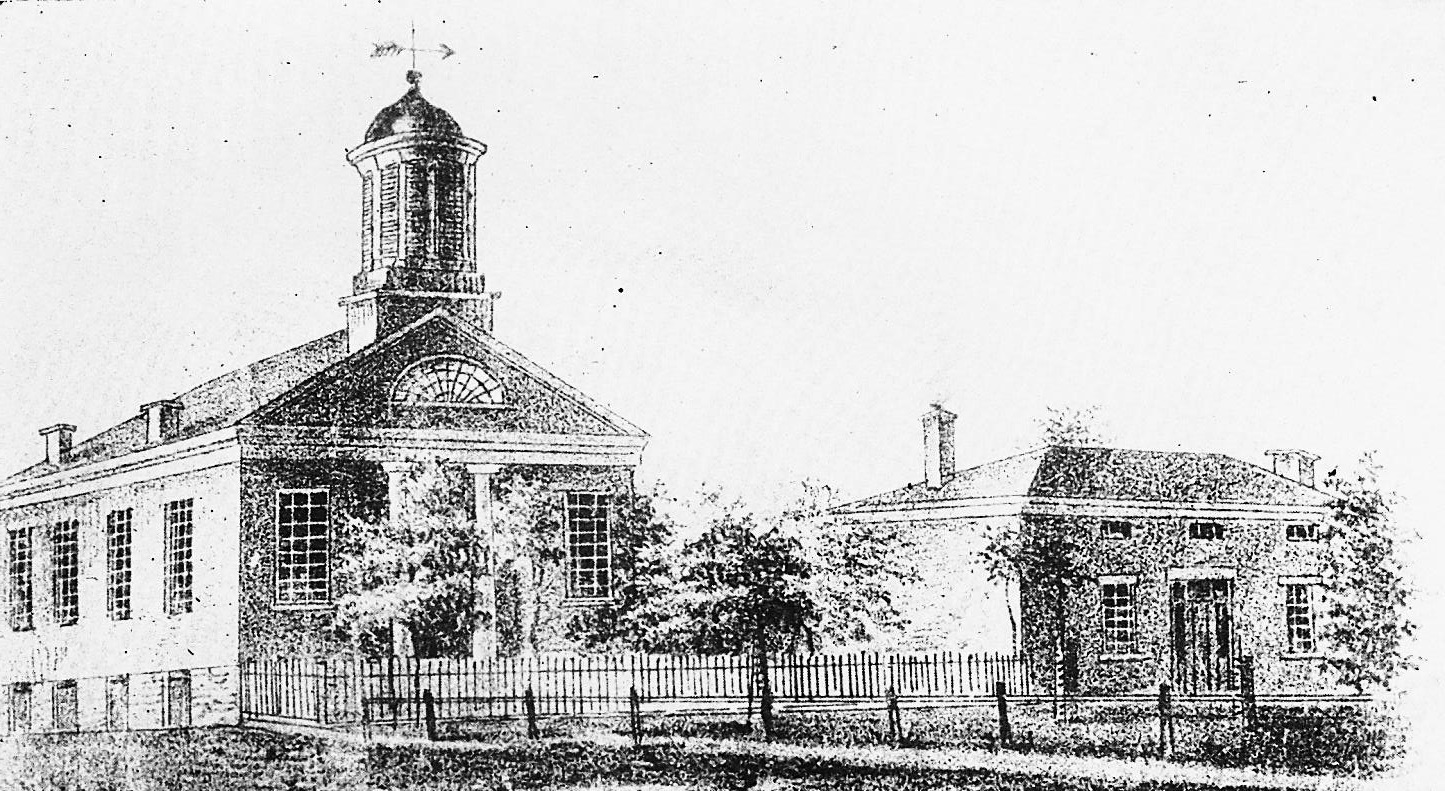 Drawing of 1848 Church on the Town Square
In the summer of 1823, the log church on West John Street was replaced by a new church. It was described as a quaint brick building with a gallery on three sides, and with a spire and a bell in the middle of the roof. The two congregations used the church alternately, thus often it was referred to as the "Union Church." By 1847, the Lutherans felt that they could financially afford to erect a separate building. Two lots were purchased on the square of Bedford, and a brick building was built. It was designed by Solomon Filler and had the same architectural design as Bedford's courthouse and the Presbyterian Church. Twenty-two years later that building was torn down and a second church was built using bricks and stone from the original church. The new church was built using the architectural plans of L. Simmons, Esq. of Harrisburg. The new Romanesque building was described as a "handsome structure, an ornament to the town as well as showing the zeal and piety of its members."
The original Sunday School wing was dedicated in 1930. Seventy-five years later, in 2005 a major building project widened the three-story Sunday School wing and provided a larger Social Room, modern kitchen, classrooms, music rooms, and a full-sized elevator. Church offices are now located in that addition. For the 250th Anniversary, the church nave, apse, and narthex underwent a major renovation under the direction of Clark Construction of Bedford and Jim Checkeye of Evelyn and James Interiors, Pittsburgh.
Trinity Lutheran Church as it stands today
Although our world today is very different from that of 250 years ago, we share significant characteristics and values with the early founders. Sound, steadfast, pastoral leadership throughout its 250 years has been instrumental to Trinity's growth. Forty pastors, including the known circuit riders, have provided ministerial leadership to our congregation. Music and Christian Education have always been important to Trinity's life. As Trinity's congregation has grown, so have the Christian outreach ministries it offers to meet needs of people near and far.
Trinity's 250 years of heritage have contributed to the strength of our church today. The generations of the past met the challenges of their times so that this church would not only endure, but thrive. That legacy continues as Trinity is faithful to its Christian mission of… "Strongly proclaiming the Gospel of Jesus Christ."